Gluten Free All-Purpose Baking Flour
2 cups rice flour
2/3 cup potato starch
1/3 cup tapioca flour
1 tsp xanthan gum
Combine 2 cups rice flour, 2/3 cup potato starch, 1/3 cup tapioca flour and 1 teaspoon xanthan gum. Store in container with tight fitting lid; stir before using. Makes 3 cups
Gluten-Free Brown Rice Flour Blend
6 cups stabilized brown rice flour
2 cups potato starch
1 cup tapioca starch
Whisk all of the ingredients together. Store airtight at room temperature for 1 month. Freeze for longer storage. Makes 9 cups
Last edited by justmecookin on Sun Apr 06, 2014 1:39 pm; edited 2 times in total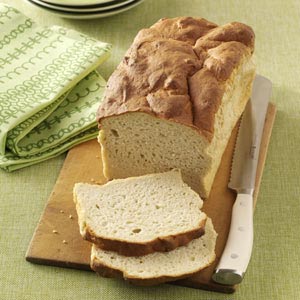 Gluten-Free Sandwich Bread
1 tablespoon active dry yeast
2 tablespoons sugar
1 cup warm milk (110° to 115°)
2 eggs
3 tablespoons canola oil
1 teaspoon cider vinegar
2-1/2 cups gluten-free all-purpose baking flour
2-1/2 teaspoons xanthan gum
1 teaspoon unflavored gelatin
1/2 teaspoon salt
Grease a 9-in. x 5-in. loaf pan and sprinkle with gluten-free flour; set aside. In a small bowl, dissolve yeast and sugar in warm milk. In a stand mixer with a paddle attachment, combine the eggs, oil, vinegar and yeast mixture. Gradually beat in the flour, xanthan gum, gelatin and salt. Beat on low speed for 1 minute. Beat on medium for 2 minutes. (Dough will be softer than yeast bread dough with gluten.)
Transfer to prepared pan. Smooth the top with a wet spatula. Cover and let rise in a warm place until dough reaches the top of pan, about 25 minutes.
Bake at 375° for 20 minutes; cover loosely with foil. Bake 10-15 minutes longer or until golden brown. Remove from pan to a wire rack to cool. Makes 1 loaf (16 slices).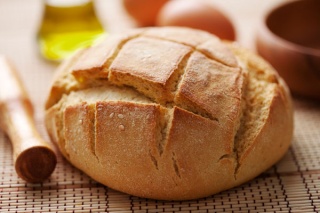 Gluten Free White Soda Bread
2 1/4 cups rice flour
1 cup tapioca flour
1/2 cup milk dried
1 tsp baking soda
1 1/4 tsp baking powder, gluten-free
1 tsp salt
1 tsp xanthan gum, heaped
2 tbs sugar, super Fine
1 egg, lightly beaten
1 1/3 cups buttermilk
Preheat the oven to 450°. Sift all the dry ingredients together into a large bowl. Mix well by lifting the dry ingredients up into your hands and then letting them fall back into the bowl through your fingers. This adds more air and therefore hopefully more lightness to your finished bread. Lightly whisk the egg and buttermilk together. Make a well in the center and pour in most of the egg and buttermilk at once. Using one hand, with your fingers stiff and outstretched (like a claw!), stir in a full circular movement from the center to the outside of the bowl in ever increasing circles, adding a little more buttermilk if necessary.    
The trick with white soda bread is not to over-mix the dough. Mix it as quickly and as gently as possible, thus keeping it light and airy. When the dough all comes together, turn it out onto a rice-floured work surface. Wash and dry your hands. With rice floured fingers, roll lightly for a few seconds—just enough to tidy it up. Pat the dough into a round, pressing it to about 2 in height.
Place the dough on a baking sheet dusted lightly with rice flour. With a sharp knife cut a deep cross in it, letting the cuts go over the sides of the bread. Prick with a knife at four angles which, according to Irish folklore, is to let the fairies out! Bake in the oven for 5 minutes, then reduce the temperature to 350° for a further 25-30 minutes or until cooked. If in doubt, tap the bottom of the bread: if it is cooked, it will sound hollow. Cool on a wire rack.
Last edited by justmecookin on Sun Apr 06, 2014 3:12 pm; edited 1 time in total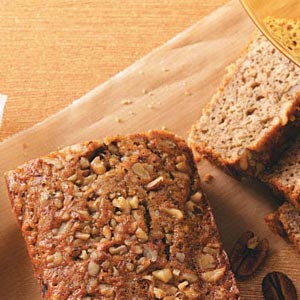 Gluten-Free Banana Bread
2 cups gluten-free all-purpose baking flour
1 teaspoon baking soda
1/4 teaspoon salt
4 eggs
2 cups mashed ripe bananas (4-5 medium)
1 cup sugar
1/2 cup unsweetened applesauce
1/3 cup canola oil
1 teaspoon vanilla extract
1/2 cup chopped walnuts
In a large bowl, combine the flour, baking soda and salt. In a small bowl, whisk the eggs, bananas, sugar, applesauce, oil and vanilla. Stir into dry ingredients just until moistened.
Transfer to two 8-in. x 4-in. loaf pans coated with cooking spray. Sprinkle with walnuts. Bake at 350° for 45-55 minutes or until a toothpick inserted near the center comes out clean. Cool for 10 minutes before removing from pans to wire racks. Makes 2 loaves (12 slices each).
Read all ingredient labels for possible gluten content prior to use. Ingredient formulas can change, and production facilities vary among brands. If you're concerned that your brand may contain gluten, contact the company.
Gluten-Free Whole-Grain Bread
3 cups gluten-free Whole Grain Flour Blend
1/4 cup milled flax
2 tablespoons sugar
2 teaspoons gluten-free instant yeast
1 1/2 teaspoons gluten-free baking powder
1 1/4 teaspoons salt
1 1/4 teaspoons xanthan gum
1 cup warm milk
2 tablespoons vegetable oil or melted butter
3 large eggs
Place the flour, milled flax, sugar, yeast, baking powder, salt, and xanthan gum in a bowl. Whisk together well. Place the milk, oil or melted butter, and eggs in the bowl of a mixer, and beat well. Blend in the dry ingredients a cup at a time, beating for a minute and scraping the bottom and sides of the bowl after each addition. After all the dry ingredients have been added, beat for 2 to 3 minutes at medium speed to make a very smooth, thick batter.
Cover the bowl, and let the batter rise for 1 hour. Scrape down the bottom and sides of the bowl, deflating the batter in the process. Beat the batter for about 1 minute.
Grease an 8 1/2" by 4 1/2" loaf pan, or 9" x 4" x 4" loaf pan, or small pain de mie pan (without the lid; you won't need it). Scoop the dough into the pan, doming it in the middle; using a spatula or your wet fingers helps.
Cover the pan with greased plastic wrap. Set it in a warm place to rise until the loaf barely crowns above the rim of the pan 8 1/2" x 4 1/2" pan; or rises to fill about 3/4 of the 9" x 4" or small pain de mie pan. This should take about 60 to 75 minutes. Toward the end of the rising time, preheat the oven to 350°.
Bake the bread for 40 to 45 minutes, until golden brown. Tent the loaf with foil the final 10 to 15 minutes of baking, to prevent over-browning. An instant-read thermometer inserted into the center of the fully baked loaf will register about 205°. Remove the bread from the oven, turn it out of the pan, and cool on a rack. Makes 1 loaf.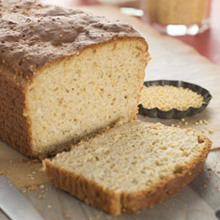 Gluten-Free Millet Bread
1/2 cup millet, soaked
1 1/2 cups gluten-free Whole Grain Blend
1/3 cup potato starch
1/2 cup almond flour
2 1/2 teaspoons gluten free instant yeast
3/4 teaspoon xanthan gum
3/4 teaspoon salt
4 tablespoons soft butter
3 large eggs
2 tablespoons honey
3/4 cup warm milk
Cover the millet with warm water and soak it at room temperature overnight, or for a least a few hours. Combine all the dry ingredients in the bowl of your stand mixer and blend thoroughly. Add the butter and blend until the mixture is like sandy crumbs. Add the eggs, honey and warm milk, beating well for 2 to 3 minutes, stopping once to scrape the sides of the bowl. Stir in the millet. Cover the dough and allow it to rise at room temperature for about 1 hour.
Preheat your oven to 350° and lightly grease an 8 1/2" x 4 1/2" bread pan. Scrape the dough (which will be the consistency of a thick batter) into the prepared pan and allow it to rise again, covered, for about 30 to 40 minutes, or until it's risen just above the rim of the pan.
Bake the bread for 40 to 45 minutes, or until the internal temperature reaches 205° to 210°. The top should be a lovely golden brown. If the loaf begins to brown too much before it's finished baking, tent it with aluminum foil for the remainder of the bake. Cool completely before cutting and serving. Makes 1 loaf.


Similar topics
---
Permissions in this forum:
You
cannot
reply to topics in this forum